DVDs and Books
The following books and DVDs are available, call 0800 056 8328 to order.
Dialectical Behaviour Therapy (CBT Distinctive Features) – £15.00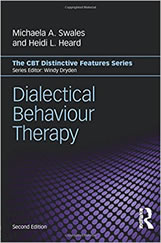 Dialectical Behaviour Therapy (DBT) is a psychotherapeutic approach used to treat individuals with complex psychological disorders, particularly chronically suicidal individuals with borderline personality disorder (BPD). The therapy articulates a series of principles that effectively guide clinicians in responding to problematic behaviours. Treated problems include, among others, attempting suicide, bingeing, purging, using illegal drugs and behaviours that directly impede the treatment.
Dialectical Behaviour Therapy: Distinctive Features highlights theoretical and practical features of the treatment using extensive clinical examples to demonstrate how the theory translates into practice. This updated edition reviews recent modifications to the structure of the treatment and considers more recent research evidence for both the biosocial theory underpinning the treatment and treatment efficacy. The book provides a clear overview of a complex treatment, through a unique application of strategies and a discussion of a comprehensive treatment programme that structures the therapeutic journey for the client.
The book will be of interest to clinicians wanting to develop their knowledge about the treatment, prior to formal training; post-graduate students in mental health seeking to learn how to conceptualize complex problems; DBT trained clinicians who require a useful précis of the treatment with clinical examples, and clients about to embark upon this treatment. This book provides a clear and structured overview of a complex treatment. It is written for both practising clinicians and students wishing to learn more about DBT and how it differs from the other cognitive behaviour therapies.
ISBN 978-1-138-94274-5
Core Components of DBT DVD Series – Private Use £69, Training Use £375
Presented by Dr Michaela Swales and Christine Dunkley, each DVD in the series focuses on a different aspect of DBT and consists of role plays depicting a relevant scenario. Therapists can watch the role-plays either with or without the 'strategy highlight' subtitle feature turned on. Each DVD also comes with an accompanying study guide which contains a complete transcript of the role-plays with DBT strategies listed and aspects of the therapist's conceptualisation highlighted.
Volume I: Conducting a Comprehensive Behavioural and Solution Analysis
In Core Components of DBT: Behavioural and Solution Analysis, Michaela Swales and Christine Dunkley demonstrate how to conduct a behavioural analysis and implement a comprehensive solution analysis. In the two unscripted role-plays on this DVD Michaela and Christine demonstrate a range of different solutions and how to engage the client in behavioural rehearsal of those solutions in session.
(69 mins + 53 page guide)
Volume II: Pre-Treatment  
DBT has a distinct pre-treatment phase, usually lasting between 3-4, or occasionally up to 6, sessions. There are 4 distinct tasks of this phase of treatment. The first is to identify the client's goals; the second is to link these goals to the goals of the treatment; thirdly, the therapist comprehensively orients the client to the treatment; finally the therapist obtains commitment from the client to participate in all modalities of the treatment. The three role-plays on this DVD demonstrate aspects of this process.
(30 mins + 45 page guide)
Volume III: Implementing the Suicide Crisis Protocol
On this DVD Christine Dunkley and Michaela Swales demonstrate the application of the Suicide Crisis Protocol in DBT. The Suicide Crisis Protocol represents one of the unique and potentially highly effective components of the treatment.  The presence of this protocol, developed by Marsha Linehan and based on her extensive knowledge of intervention with suicidal behaviours, provides therapists with confidence that they are intervening in a systematic manner with these high risk behaviours.
(42 mins + 34 page guide)